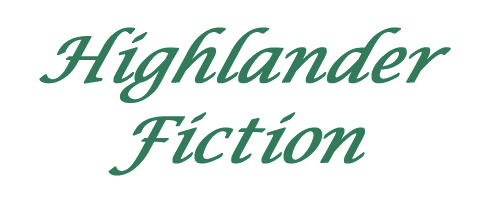 The stories on this page reflect my view and interpretation of the Highlander universe. I didn't invent these characters (more's the pity), I only take them out to play. The stories are loosely grouped as arcs, or at least with others they relate to. Within the groupings, it's probably best to read them in the order listed, but not necessary. The dates following the titles are when they were added to the page.
WARNING: Some of the stories carry NC17 ratings for sexual content, specifically homoerotic (male/male) sex. If you are under 18 or bothered by such things, please exit this page now.

Highlander Fiction last updated March 26, 2001

---
Since the MPAA has been worried about losing the copyright on their rating system, fans have worked out a system for themselves. The one I'm using is The Fan Rated Rating System.
---
The Post-Horseman Stories
This is a series of stories that all relate to the events of or the emotions raised by the "Comes A Horseman/Revelation 6:8" episode arc.
MUSINGS II (02/97) Rated FRT
Duncan MacLeod attempts to sort out his feelings after Revelation 6:8
Go to Musings II

AFTER HOURS (03/97) Rated FRT
After Revelation 6:8, Methos goes back to Seacouver to talk to his friend Joe Dawson
Go to After Hours

NIGHTMARES (04/97) Rated FRT
Joe tries to help Methos rid himself of the nightmares brought on by the events in Bordeaux
Go to Nightmares

JUXTAPOSITION (05/97) Rated FRT
Duncan MacLeod revives after an accident and finds he is one of the Horsemen. Is he dreaming or is this real?
Go to Juxtaposition
---
The "Friends" Story Arc

MUSINGS (02/97) Rated FRT
Duncan MacLoed contemplates events during Chivalry
Go to Musings

THE COLOR OF THOUGHT (05/99) Rated FRM
Duncan MacLeod and Methos shortly after the episode Chivalry
Go to Color

FRIENDS ARE WORTH IT (02/97) Rated FRAO
Methos and MacLeod explore the beginnings of a more intense relationship and what it really means to them both
Go to Friends

A MATTER OF RESEARCH (03/97) Rated FRAO
A vignette with Duncan, Methos, a shower and a book of ancient sex practices
Go to Research

JOE DON'T DO NO SLASH (06/97) Rated FRAO
Methos returns home after returning the book of ancient sex practices to Joe
Go to JDDNS

EVEN HORSES HAVE BIRTHDAYS (08/97) Rated FRAO
New Year's Day and a birthday party start Duncan thinking about his real feelings for Methos
Go to Birthdays

A WARRIOR'S QUEST (09/97) Rated FRT
Duncan MacLeod, with Methos' help, searches for answers and a renewal of friendship after Archangel
Go to Part 1
Go to Part 2

FRIENDSHIP REGAINED (12/97) Rated FRAO
After more than a year apart, MacLeod searches for Methos in hopes of a reconciliation
Go to Regained

BIRTHDAY -- HIS (12/97) Rated FRAO
MacLeod and Methos celebrate the Winter Solstice
Go to Birthday -- His
---
The Variations Set of Stories

VARIATIONS ON A THEME (04/97)
A set of stories all based on an idea sent to us by a reader, concerning Methos' dreams or nightmares about the events of Comes A Horseman and Revelation 6:8. This is the original idea as it was sent to us: "It's a dream/nightmare that Methos has. His mind is trying to deal with all the shock, anger and fear he's beset with due to the events of CaH and maybe Rev (and some events seen only in fanfic). Anyway, his dreaming mind has pulled these things together and confused them, including his pain and anger over Mac's summary judgment of him and memories of his capture, training and use of Cassandra, until those memories metamorphose into Duncan playing Cassandra's role. As the function of dreaming can be wish fulfillment, even in a darker sense of venting anger in this way, Methos' unconscious mind can satisfy and relieve the anger and assuage the pain of current reality, since in his dream which, of course, is set in the Bronze Age, it is Duncan who was taken from his village during a raid and must learn that he now lives to serve Methos. And will stay alive only so long as he pleases this horseman."


Go to Variations I: Dreamscape by Meg

Go to Variations II: Nightmares (seen above in the Post-Horseman set)

Go to Variations III: Solution by Anne

Go to Variations IV: Dream Lover by Anne Rated FRAO

---
Stories With No Universe (yet...)

These are stories that are "one offs". They don't relate to any other story specifically.

THE FABRIC OF OUR LIVES (03/01) Rated FRM
Duncan and Methos and a brief separation (originally published in FWE 3)
Go toFabric

SWORDS AT SUNSET Rated FRAO
with Maygra deRhema. Our entry in the Swords at Sunset fiction contest.
Part 1, Part 2, Part 3, Part 4

PERSONAL JOURNAL OF JOE DAWSON

(10/96) Rated FRT
The private journal of the Watcher during the events of Judgement Day and One Minute to Midnight
Go to Journal

DUNCAN AND THE IMMORTAL VALET SERVICE (11/96) Rated FRT
One answer to the questions "What do they do with the swords?" and "Who takes care of the dead bodies?"
Go to IVS
---
Bits of Fluff and Nonsense
These are vignettes that come from list challenges or other unlikely inspirations. None of them are very long, none of them have any literary merit. Hopefully, they're at least fun. All I'll guarantee is that they've been spell checked.

METHOS/RHINOCEROS (04/97) Rated FRT
Methos wakes up and finds something a little different. Inspired by a comment made on rog-l
Go to Rhino

KIDNAPPED? (10/97) Rated FRT
A list challenge. Kidnap Joe. Anything was allowed, except angst
Go to Kidnap

AT THE MOVIES (10/97) Rated FRT
A list challenge. We were given two quotes that had to be included in the scene, and one of them had to be the last line
Go to Movies

THE FRIENDLY SKIES (12/97) Rated FRAO
Just a little bit of sweet sex that the boys shared with me as we sat in the first class cabin of an airliner
Go to Friendly Skies

FRACTURED FAIRIES or THE GREAT MANIPULATION (11/99) Rated FRT
An odd tale that was written one night on ICQ. We wish we could say we were under the influence of controlled substances at the time, but ...
Go to Fairies

---

Your comments are welcome. Send email to Ashlyn.

Back to Ashlyn's World